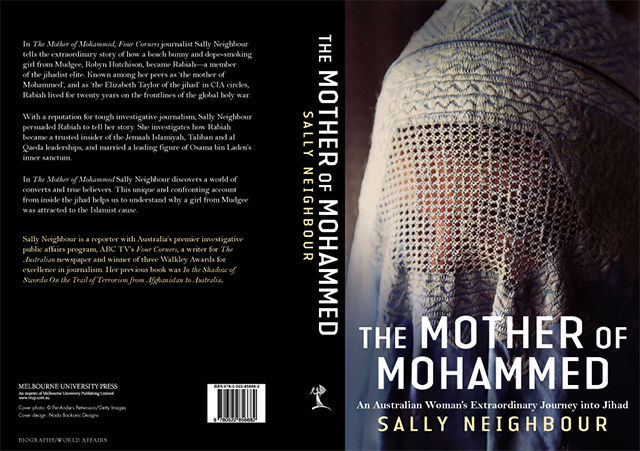 The Mother of Mohammed published in the US by the University of Pennsylvania Press. Link
"A must read for anyone wanting to go beyond the headlines and understand in depth women who marry terrorists and form the emotional backbone of terror." Marc Sageman, author of Leaderless Jihad and Understanding Terror Networks. Link
The Mother of Mohammed short-listed for the 2009 Walkley Non-Fiction Book Award. 'Sally Neighbour's portrait of a matriarch among terrorists': See announcement
Indian edition published by Jaico Books, November 2009.
Link
Rabiah interviewed on the BBC World Service Outlook program.
About The Mother of Mohammed
The Mother of Mohammed is the story of Australian woman, Rabiah Hutchinson, a Muslim convert who has been at the heart of the global jihadist movement for more than twenty years, as a result of which she is now deemed a threat to Australia's national security and banned from travelling abroad.
A former Mudgee girl and one-time hippy backpacker, Ms Hutchinson joined the Islamist uprising in Indonesia in the 1980s. She became a follower and friend of the radical cleric, Abu Bakar Ba'asyir, and was employed as an English teacher at Ba'asyir's famous Ngruki boarding school in Central Java. In the '90s she took her six children to north-west Pakistan to join the mujahidin struggle against the Communists in neighbouring Afghanistan. She spent four years working in a mujahidin hospital and orphanage in a camp run by the famed Afghan warlord, Abdul Rab Rasul Sayyaf. In 2000 she moved to Taliban-ruled Afghanistan where she married a senior al Qaeda figure and became a member of the jihadist elite. After 9/11 she and her children spent several months on the run in Afghanistan, as US cluster bombs fell around them, before escaping across the border into Iran where they were detained under house arrest by the Revolutionary Guards.
The book provides a unique and confronting insider's description of the rise of the global jihadist movement. It is an unprecedented first-hand account from a Western participant of a series of critical episodes in recent history, such as the emergence of the Islamist movement in Indonesia, the mujahidin struggle in Pakistan and Afghanistan in the 1990s, life in Taliban-ruled Afghanistan, the split in the al Qaeda leadership over the 9/11 attacks on the United States, and the subsequent US-led bombardment of Afghanistan.
The Mother of Mohammed combines a gripping narrative with meticulous journalistic research to authenticate and corroborate Ms Hutchinson's remarkable story.